Crevasse separating the cliff face at Kettle Creek overlook.
Hiking Pennsylvania's magnificent Loyalsock Trail. My favorite.
An overview. The Loyalsock (LT) trail is so natural, rugged and scenic that even photographs cannot do it justice. It simply must be experienced to appreciate it. So, if you are in good shape, like rugged, challenging hikes, waterfalls, roaring mountain streams, dense remote woods and wildlife at its finest, get your hiking boots..........
The Loyalsock wilderness trail runs 59.3 miles through Worlds End State Park on PA154, Lycoming and Sullivan counties in north central PA. between LaPorte on US220 and Loyalsock on PA87. It features dozens of waterfalls ranging up to 75 feet high, many high vistas overlooking the rugged Loyalsock valley, spectacular stream courses, gorges and canyons as it winds through the historic coal mining, timber regions and rail beds of yesteryear. Breathtaking 400 foot high cliffs, hundreds of different rock formations, ledges, crevasses and caves. Hiking effort ranges from easy, flat woods walking to quarter mile sections that climb a rugged rock strewn 1200 feet in elevation. Hardwood forest, thickets of mountain laurel, rhodedendron, blueberries and azalea compliment the countless species of wildf lowers such as violets, trillium, gaywings and hepatica that spring up from the forest floor. A hiker may encounter tiny chicadees, woodpeckers and songbirds, wild turkeys, porcupines, skunks, racoons, deer - all in their natural habitat.
Camping is available in the park and at designated wilderness sites, subject to regulation. The LT follows the cliffs above and drops down through Worlds End State Park where short trail sections may be explored and two spectacular vistas are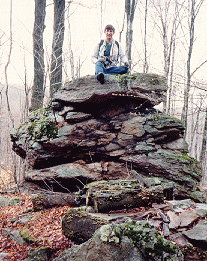 accessible by auto. (Details and map at park.) The LT has sufficient road access to permit 4 to 10 mile long day hike segments.
Detailed LT trail maps and guides are available for $3.50 from the Alpine Club at P.O. Box 501 Williamsport, PA 17703. Their members do a fantastic job of trail marking and maintenance. Many thanks to them.
Also: Worlds End State Park P.O. Box 62 Forksville, PA 18616-0062 Phone (717) 924-3287 (Kudos for the beautiful park area) or the PA Department of Parks at P.O. Box 8551 Harrisburg, PA, 17105-8551.
Split Rocks pinnacle above Ketchum Run.
---


Send me some E-Mail I would like to hear from you. aljohn@jmclum.com
Last Updated by Al Robbins 4/27/2000
---