Click on the trail marker to find more about hiking. Bring a boy up to love and respect nature and the outdoors and he will have a healthy relationship that will serve him well all of his life. He will have neither the time nor the inclination to get in trouble. Every boy should be a Boy Scout; it is one of the most positive and beneficial experiences a boy can have.

---
---
HIKING
is my favorite activity. Click on the trail marker for more information about hiking north central Pennsylvania's Loyalsock wilderness trail.
---
---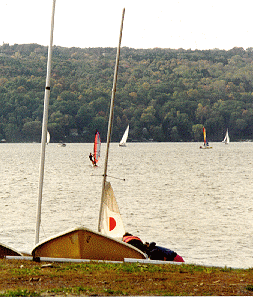 is an exciting and challenging Water Sport that I enjoy in Cayuga Lake at Ithaca NY (NY Boardsailing, Ithaca NY) and Cocoa Beach, Florida (Banana River).

Windsurfing uses a modified surfboard with a mast and sail. The sport requires balance, agility, and endurance since the power for propulsion is transmitted from the wind in the sail through the windsurfer's body to the board. Advanced windsurfing involves planing across the water at high speed (reminder: water gets very choppy with high wind.), high speed slalom turns, racing a course at all points of sail, including upwind, and contests for form, style and speed. It is a rapidly growing sport with increasingly sophisticated equipment coming to the scene every year.
---
---
PHOTOGRAPHY
is the essence of capturing and preserving the image of an event, person, place or object. The camera captures forever what the human mind may forget, or what time may change. I photograph people, landscapes and nature scenes, lightning and animals. Favorite subjects: wilderness landscapes, nature and people. Have camera; will travel. Favorite camera: Canon A1 35mm with a 35 to 135mm zoom lens and color film.
---
GUNS AND SHOOTING
Every law abiding citizen should have and be trained in the safe and proper operation of firearms. Every dad should teach and take his son shooting at an early age. A finely crafted gun is a thing of beauty. The challenge of shooting sports is hitting a distant target. It may be the challenge of hitting a small, fast moving (clay pigeon) target with a shotgun - as in skeet or trap. It may be the challenge of competitive target shooting or just bouncing a can around with a handgun or rifle. Collecting and shooting antique firearms is part of the interest. I used to enjoy hunting, but I now prefer to hunt only with a camera. I hold nothing against those that enjoy hunting, though. It is a fine sport.

Send me some E-Mail I would like to hear from you. aljohn@jmclum.com
Last Updated7/13/2007
---